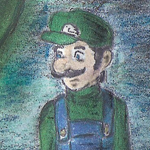 miss_anthy is the winner of our July 2011 Fanart contest!

There's definitely an understated charm to this work that made it grow on us more and more. The coloring is handled nicely and really helps sell the dank atmosphere, and the character's poses and expressions all work quite well too. I can see this being a panel out of a comic book about the Bros having a rough trip home. Nice work on a compelling picture, miss_anthy!

That wraps it up for July! Thanks to all the artists who entered and made the judging as tough as ever! And make sure to swing by the thread for the popular cartoon crossover August Contest, which is already getting some seriously good entries. See you there!

Our wonderful artists did some great work this month, so you'd do well to check out the other nominees!