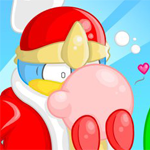 DreamlandDreamer is the winner of our June 2011 Fanart contest!

The clean execution, great idea and warm color palette of this piece gave us the warm fuzzies one can only get from kissing an emperor penguin. This is actually the artist's first piece for one of these contests, and we want to see more! Excellent work to DreamlandDreamer!

To check out the other nominees, head on over to the contest thread on our forums!