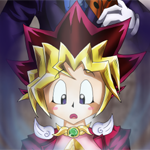 Ame-Nami is the winner of our August 2011 Fanart contest!

All things considered, jaws were dropped. Toilets flushed. Somewhere off in the distance, a dog barked. Ame-Nami delivered a really slick piece of art with all the trimmings here. The little Kirby-esque details are a nice touch (the human-form Kirby, the Star Rod, Meta Knight's shoulder pads, the reimagining of Dedede's cloak, Zero's bleeding eye and halo, Dark Matter's human-form sword earring [now that's detail!], etc) but even beyond that, the linework, coloring, composition, and general use of the theme are all top-notch and must've taken tons of time to hammer down. Congratulations, Ame-Nami on a wonderful entry!

And thanks to everyone who participated in the most jam-packed contest yet! It was quite a challenge to go through it all, but it was certainly fun to see what you guys cooked up.

This month produced an incredible wealth of amazing entries, so you'd do well to check them out!