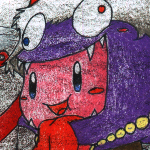 This art by Lamer_Than_You is the winner of the Halloween-themed October 2010 Fanart contest!

We've really loved each of Lamer_Than_You's entries, and this one has tons of cool stuff in it. Each character's costume is lovely and really suits their characters, the art style is well-defined and full of character as always, and the image is just a completely appealing and detailed work that depicts one precious moment from the lives of these characters. Thanks for the great submission, Lamer_Than_You!

As always, we received a bunch of great entries from a lot of talented artists, so it was tough to pick the nominees – you can see the thread of all the great nominees here.