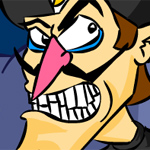 This great image by Spazboy225 is the winner of the September 2010 Fanart contest!
All things considered, the simple elegance and quality linework of this piece hit the right notes for us. Kirby and Waluigi fit their roles like gloves, while the absurd use of Snake tops off the image with some humor. And a little background detail goes a long way, helping to add to the sneaky night atmosphere. It represents the BitF side of things and the Disney side of things equally well, and looks darn good in the process.

We received even more incredible submissions than ever this month, so you should check out the nominees!