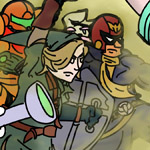 Preasure is the winner of the November 2010 Fanart contest!

The Mushroom Kingdom has once again become a war-ravaged battlefield of destruction. But this time, taking the paint-spewing torch in leading the troops to victory is none other than Adeleine! Snake seems to have collapsed butt-side-up in the chaos, while Luigi solemnly fears that he may be the next to fall. And don't think I didn't see Peppy peeking out of the background there, Preasure! Quite sneaky…

As always, you should check out this month's nominees!