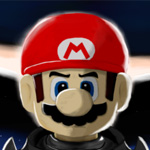 ThatFellow is the winner of our May 2011 Fanart contest!

If Super Mario Galaxy had been made by Bioware, maybe we could have expected something like this – and that would have been pretty awesome! Mario's got a Koopa friend (which suggests he's gotten past his aforementioned anti-turtle prejudices) and Peach is standing to fight at his side, which is something that I think would be pretty cool to see (Super Mario RPG notwithstanding). The depth and balance of the coloring in this image is beautiful and the translation of the Mass Effect box art into Mario imagery is brilliantly done.

We received even more excellent entries than usual this month, so you'd do well to check them out!