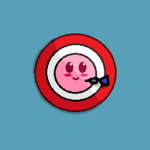 BlueberryPancake is the winner of our April 2011 Fanart contest!

Dedede delights in tormenting Kirby in any way possible, so he's surely getting lots of devious delight from Kirby's AR card! The clever idea is supported by very cute art and attractive coloring. Poor AR-Kirby is going to have an even tougher time when he realizes that he can't eat anything at all.

Our community of excellent artists produced lots of great entries this month, so go on and check them out!